Viernes, 7 de mayo de 2021 | Friday, May 7, 2021
---
Graduation Class of 2021 | Graduación clase de 2021
Event Details | Cambios de ceremonia
When | Cuándo: Mon, May 24 | Lunes, 24 de mayo 5pm
Where | Dónde: Bruce Randolph Soccer Field | Campo de fútbol de Bruce Randolph
Health & Safety | Salud y Seguridad: Masks required, and temperature checks when arriving. Se requieren mascarillas y controles de temperatura al llegar.
Guests | Invitados: Four guests per graduate | Cuatro invitados for graduado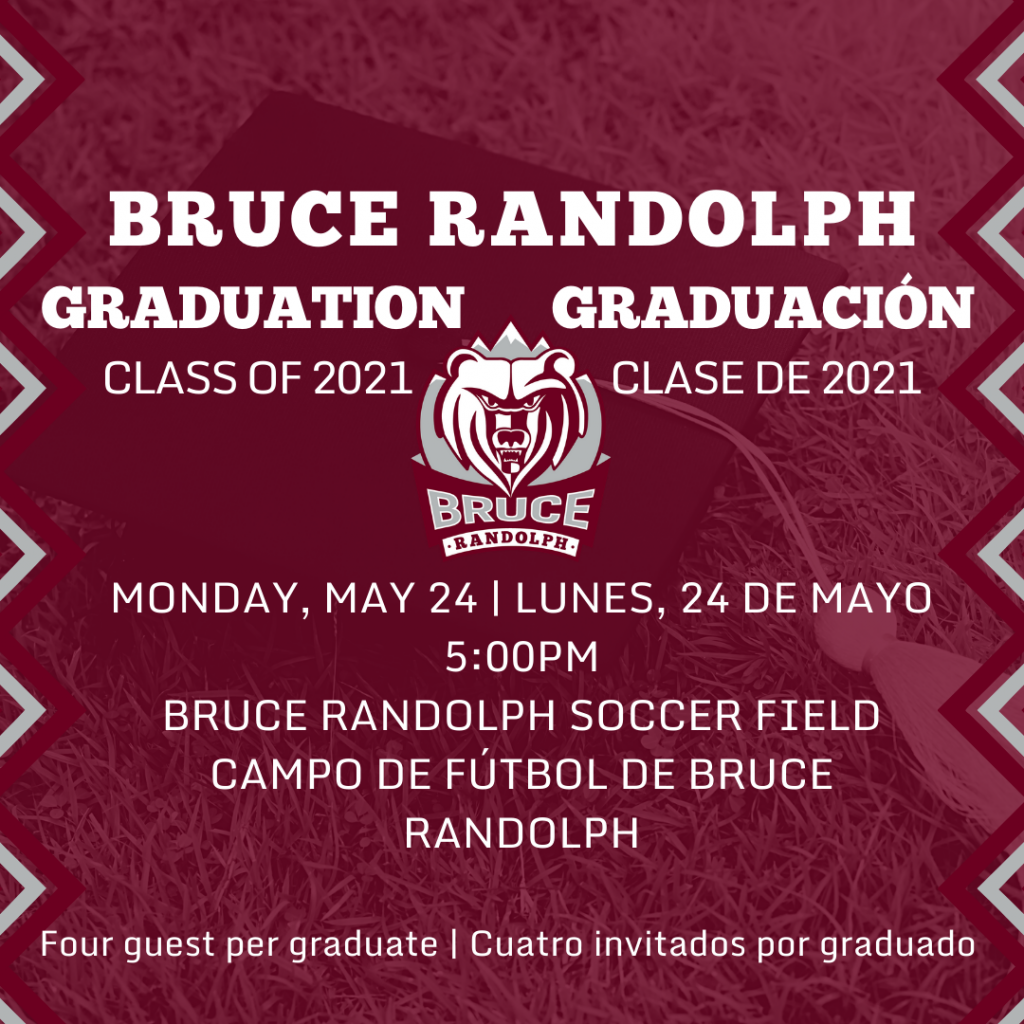 Ceremony Changes | Cambios de ceremonia
We have made the following changes to this year's graduation ceremony:
The ceremony will now be at Bruce Randolph on the soccer field.
Each graduate is now allowed up to four guests.
We are no longer using Eventbrite for RSVP's. Instead, graduates will get their tickets during senior checkout.
Hemos realizado los siguientes cambios en la ceremonia de graduación de este año:
La ceremonia ahora será en Bruce Randolph en el campo de fútbol.
Cada graduado ahora tiene permitido hasta cuatro invitados.
Ya no usamos Eventbrite para RSVP. En cambio, los graduados obtendrán sus boletos durante el pago de los estudiantes de último año.
---
Continuation Ceremony | Continuación Ceremonia
Event Details | Cambios de ceremonia
When | Cuándo: Tue, May 25 | Martes, 25 de mayo 5pm
Where | Dónde: Bruce Randolph Soccer Field | Campo de fútbol de Bruce Randolph
Health & Safety | Salud y Seguridad: Masks required, and temperature checks when arriving. Se requieren mascarillas y controles de temperatura al llegar.
Guests | Invitados: Two guests per student | Dos invitados por estudiante
Ceremony Changes | Cambios de ceremonia
The ceremony has been moved to Tuesday, May 25, and we are no longer using Eventbrite to RSVP. Students will receive their tickets for the ceremony during rehearsal.
La ceremonia se ha trasladado al martes 25 de mayo y ya no usamos Eventbrite para confirmar su asistencia. Los estudiantes recibirán sus boletos para la ceremonia durante el ensayo.
---
Free COVID-Testing for Students | Prueba COVID gratis para estudiantes
Free COVID-19 testing is available to students on Wednesday mornings. Sign up for testing this coming Wednesday, May 12 below!
La prueba gratuita de COVID-19 está disponible para los estudiantes los miércoles por la mañana. ¡Regístrese para probar el próximo miércoles 12 de mayo a continuación!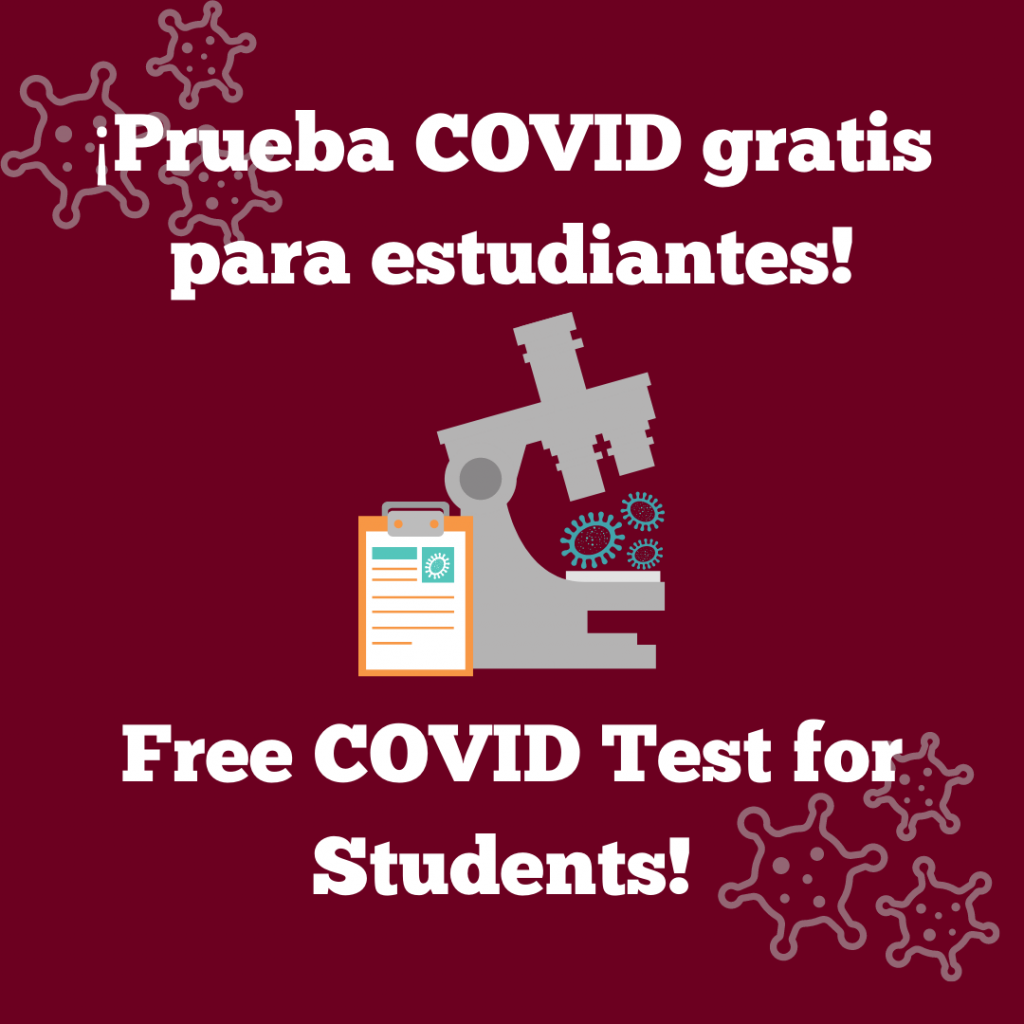 ---
Registration | Registro
Need help? Read the guides below! ¿Necesitas ayuda? ¡Lea las guías a continuación!
Online Registration is Open Now Through May 21! Don't Wait! Register for the 2021/22 School Year Online Today!
¡La inscripción en línea está abierta desde ahora hasta el 21 de mayo! ¡No espere! ¡Regístrese para el año escolar 2021/22 en línea hoy!
---
Please complete Family Satisfaction Survey by 5/21
Have you taken our End-of-Year Family Satisfaction Survey yet? Don't delay – share your feedback on Bruce Randolph by 5/21! Your feedback helps us make important decisions for our students next year. Thank you for participating!
Complete la Encuesta de satisfacción familiar antes del 5/21
¿Ya completaron la encuesta de satisfacción familiar de fin de año? ¡No dejen pasar más tiempo! Compartan sus comentarios sobre Bruce Randolph a más tardar el 5/21. Sus comentarios nos ayudan a tomar decisiones importantes para nuestros estudiantes del año que viene. ¡Gracias por participar!
---
COVID-19 Resources | Recursos de COVID-19
COVID-19 Vaccines

ne of the most exciting recent developments in our state is that everyone age 16 and older is now eligible to receive the COVID-19 vaccine.

If you or your family members are interested in getting a vaccine, here are some ways you can access it:
Vaccines para COVID-19

Uno de los desarrollos recientes más emocionantes en nuestro estado es que todas las personas mayores de 16 años ahora son elegibles para recibir la vacuna COVID-19.

Si usted o los miembros de su familia están interesados en recibir una vacuna, aquí hay algunas formas de acceder a ella:

Regístrese con su proveedor de atención médica.
Visite el sitio web de vacunación de la ciudad de Denver para conocer las clínicas comunitarias.
Llame a la línea directa de vacunación COVID-19 de la ciudad al 877-CO VAX CO (877-268-2926).
Comuníquese con la farmacia de su vecindario.
Para estudiantes de 16 años o más, comuníquese con nuestros centros de salud escolares al 303-602-8958.
COVID-19 Vaccines for students

Vaccines are offered at NO COST to all DPS students. The more students that get vaccinated against COVID-19 means safer schools for all DPS students! Click here to learn more about how to register, and dates and times of vaccination clinics for DPS students!
Vacunas COVID-19 para estudiantes

Las vacunas se ofrecen SIN COSTO a todos los estudiantes de DPS. ¡Cuanto mayor sea el número de estudiantes que se vacunen contra COVID-19, más seguras serán las escuelas para todos los estudiantes de DPS!

¡Haga clic aquí para obtener más información sobre cómo registrarse y las fechas y horas de las clínicas de vacunación para los estudiantes de DPS!
COVID-19 Funeral Assistance

The COVID-19 pandemic has brought overwhelming grief to many families. At FEMA, our mission is to help people before, during and after disasters. We are dedicated to helping ease some of the financial stress and burden caused by the virus.

OVID-19 Funeral Assistance Line Number

Applications begin on April 12, 2021
844-684-6333 | TTY: 800-462-7585

Hours of Operation:
Monday – Friday
8 a.m. to 8 p.m. Central Time
Asistencia para gastos fúnebres por COVID-19

La pandemia de COVID-19 ha causado tanto desconsuelo para tantas familias. En FEMA, nuestra misión es ayudar a las personas antes, durante y después de los desastres. Permanecemos comprometidos en brindar algún alivio en la presión y carga económica que este terrible virus ha causado.

Línea telefónica de asistencia para gastos fúnebres por COVID-19

Período para solicitar a partir del 12 de abril de 2021
844-684-6333 | TTY: 800-462-7585

Horario:
lunes a viernes
8 a.m. a 8 p.m. hora del centro